Here's a little-discussed phenomenon: The Automatic No. It sabotages Adult ADHD relationships of all kinds.
I seem to have coined the term, writing about it first in 2014 in an article I wrote for CHADD. But many still haven't received the memo.
To the uninitiated, the Automatic No might look like negativity or even oppositional defiance. Wrong explanations risk conflicts based on superficialities, not causes.
With the Automatic No, there is typically more afoot. How do I know this? Two ways:
Professionally, by developing expertise in Adult ADHD
Personally, by observing at home and with the thousands of adults with ADHD and their partners I've met over the years.
Oh, I've also seen the Automatic Yes, too. More about that in a minute.
The Automatic No: Professional Explanation
Let's categorize the Automatic No as a "poor coping response."
That is, folks who grow up without benefit of ADHD diagnosis or treatment, tend to cope with their challenges as best they can. Some coping responses are positive. Some are counter-productive. Some are even destructive.
Yes, mental health professionals call them "poor coping responses". But when you think about it, some of these responses are logical. For example, we can consider "avoidance" a common coping responses. But if you've already learned that "talking about the problem" (unrecognized ADHD fallout) will never resolve it, avoidance seems downright practical!
Most poor coping responses simple represent bare-knuckle attempts to get through the day—lacking better explanations for their challenges.
Therapy for Adult ADHD should shine a major light on identifying these counterproductive coping responses—and then revising them into more productive coping responses. That's a major focus of my first book and now a major focus of my online program (Solving Your Adult ADHD Puzzle).
As for the personal, my husband (aka, Dr. Goat) used to be the Master of the Automatic No.
Dr. Goat: The Personal Explanation
Once he was diagnosed with ADHD (in 1999), I started understanding how Dr. Goat developed this habit. When I interviewed him, a few years ago, for an * article on his best tips for slowing his own ADHD roller coaster, I asked him about the Automatic No.
At any rate, here is his response to my question:
What's the Automatic No? Simple. I would routinely say "no" when my wife would propose an outing or a different way of doing things at home.
Who knows why. I wasn't opposed to most of her suggestions.


[advertising; not endorsement] [advertising; not endorsement]


Looking back, I suspect I reflexively rejected adding one more thing to the pile I was supposed to think about or remember—risking yet another failure. Most other adults with late-diagnosis ADHD know what I mean. You grow so accustomed to falling flat when attempting new things that you avoid trying them. I found it easier to say no and go watch Star Trek instead!
Over time, I've learned to listen with an open mind before rejecting an idea.
Now we have this shtick. Gina will suggest something, and I'll say "No." She'll repeat it, and I'll say "No." She tries one more time, and I often say "OK."
Why does this help? I suppose it gives me time to get the Automatic No's out of my system, and buys time to assess how I actually feel about the idea."
In other words, it's sort of like this guy above, from the BBC show The Vicar of Dibley.
It made such a difference when my husband started saying "Yes" or "Let me think about it" or "I'd say yes, but" instead of giving the Automatic No.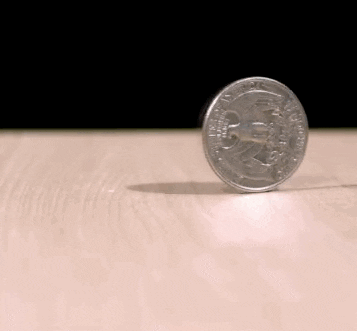 The Automatic Yes: Other Side of the Coin
A friend of mine diagnosed with ADHD in her 30s reports long wrestling with the opposite problem: The Automatic Yes.
Actually, it just seems the opposite problem. It's really just the flip side of the same challenge:
In other words, she simply finds it easier to give a blanket answer rather than think through a response—and risk giving the wrong one. From requests to volunteer at her children's school or babysit her sister's children, she has trouble saying no.
Yes, she'd call herself a people-pleaser. But if we stop there, we likely miss the core cause. That is: ADHD creates trouble for her in distinguishing among tasks she can accommodate versus those that she cannot—or doesn't want to.
Another layer of challenge: She feels she must respond immediately. That means she over-commits, thus disappointing others and herself.
I suggested that she practice saying, "Let me think about it" or "I'll get back to you". Better yet: Put the onus on the person making the request: "Could you please ask me in a text or e-mail? That way, I'll be sure to give it thought and get back to you."
This is easier to do now that she's been taking medication a few years.
Finding The Elusive Middle Ground
Most humans—but especially for humans with ADHD—struggle to find the middle ground on all kinds of issues.
For people with ADHD struggling at the extremes of the Automatic No and the Automatic Yes, solutions start by examining the nature of the response.
In this essay, Taylor J writes about her reaction to reading about these issues in Chapter 3 of Is It You, Me, or Adult A.D.D.?: Chapter 3: Deconstruct Your ADHD Roller Coaster
Watch The Video: Symptoms Vs. Coping
In this video, I touch upon the importance of distinguishing between ADHD symptoms and poor coping responses.
Have You Grappled with ADHD and the Automatic No — or Yes?
Have you made peace with it? What was your strategy? We'd love to know. Just leave a comment!
One Reader Shares Her Perspective:
A reader named Betty shared her insights in a comment. To make sure other readers see it, I also share it here. Betty writes:
I fluctuate between.
As a child, I survived by doing more than expected so that my failures were lost in the blazing light of accomplishment. It was my responsibility to see that the world was in order.
If my parents fought it was because I failed – and they fought often. I didn't feel I had the right to say no to any request.
Initially I thought this was a peace-keeping technique, and maybe it was at first. Upon reflection, I began to see the "Yes" response, not only as as a validation of my reason for being, but as a prideful response. No one could be as good as I am.
Repeated failures (as a result of saying yes to things I wasn't equipped to accomplish, or lacking the time, or trying to juggle too much) meant "No" became my go-to response. I said it nicely enough but the result was the same. I got out from under. But I missed out on opportunities to learn, to grow, and too enjoy.
Since my diagnosis, and studying about life with ADHD, I have begun to moderate my approach to requests. Asking questions, assessing current commitments and resources have helped me achieve a more balanced life.
Note:
*That article referenced above is: How I Got My Groove Back. Note: I did not write that headline and I still don't understand why the website that asked me to write it did. He was getting a groove for the first time, not getting it back. But read it—it's good!
Stay posted! Join my mailing list. Look for announcements about online training soon!
Gina Pera